Pioneering steel construction.
Change and innovation are driven by those who act and dare to make the impossible possible. We believe in steel. That's why we've cut, rolled, welded and perfected our understanding and capabilities with this material. Some call it pioneering – we simply say "Steel the Future".
Innovative technologies.
Our production facilities are one-of-a-kind in the world. Automation, safety, quality and efficiency are key in the way we think and work.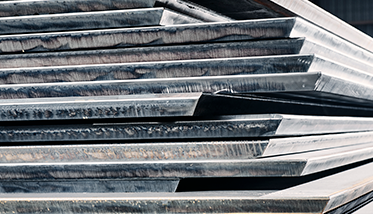 01.

Plate preparation

To manufacture the best steel constructions in the business, the starting point must be perfect. We cut, bevel and quality check a large number of steel plates.

For this we have a very modern and large facility, enabling in-house plate preparation of all steel plates.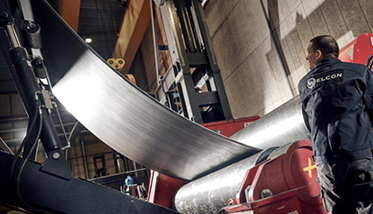 02.

Plate rolling

Try to roll a small sheet of metal into a perfect circle. It isn't that easy to get it just right? Now, imagine rolling a massive sheet of steel into a perfect circle of up to ten meters in diameter, where millimeter precision is essential. Quite a task, right? We do this every day and can roll steel plates with thickness up to 160 mm.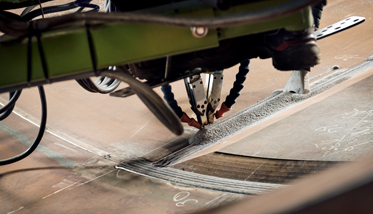 03.

Welding

The art of welding is the craft and science of deep material understanding, precision and innovation.
We've developed and optimized this craft through more than half a century, and our process, efficiency and quality is renowned throughout the industry.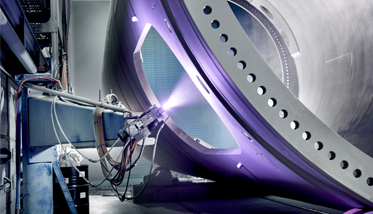 04.

Surface treatment

Perfect perception and ultimate protection is essential, when you manufacture quality constructions able to withstand the forces of nature and the test of time.
Our surface treatment facility does exactly that, on a very large scale.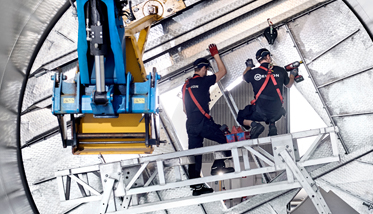 05.

Assembly

Every product is different from the others in one way or the other.
Regardless of specific use and assembly needs, our skilled and experienced engineers and assembly teams get the job done – in close sparring and collaboration with our customers.
Everybody has special needs – we have special skills.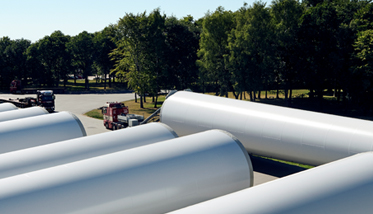 06.

Loading & transport

We manufacture very large and heavy products, and we have the equipment to handle it.

Every new and shiny tower or construction leaving our factory is venturing on a special voyage to be part of a cleaner and even better future.
It's magical.